Bio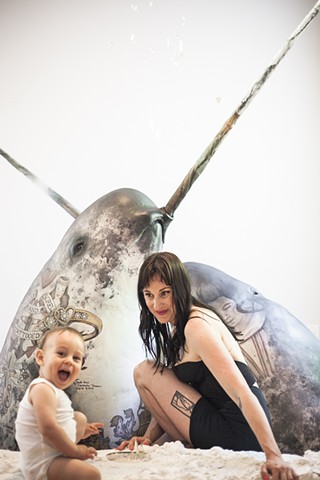 Nathalie Grice is an Ottawa-based artist whose sculptural works explore the lines between the natural and the artificial as a means to question prevalent contemporary cultural and social trends.
Having received a Bachelor of Fine Arts degree from the Ontario College of Art and a Bachelor of Education degree from the University of Ottawa, Grice currently works as an Instructor at the Ottawa School of Art where she teaches classes in painting and sculpture. An active member of the outreach program at Operation Come Home, for two years Grice was one of 6 recipients to receive a grant from the City of Ottawa/Crime Prevention to complete mural projects with homeless youth.
Grice's works have been exhibited in Ottawa, Montreal, Toronto, and San Francisco and have been featured in the arts publication Art & Science Journal. Grice is currently pursuing funding opportunities to return to the Arctic and carry out research for her next project.
Artiste installée à Ottawa, Nathalie Grice explore avec ses œuvres sculpturales la frontière entre le naturel et l'artificiel afin de remettre en question les grandes tendances culturelles et sociales contemporaines.
Titulaire d'un baccalauréat en beaux-arts de l'Ontario College of Art et d'un baccalauréat en éducation de l'Université d'Ottawa, Nathalie Grice est actuellement chargée d'enseignement à l'École d'art d'Ottawa, où elle donne des cours de peinture et de sculpture. Membre active du programme de sensibilisation d'Opération rentrer au foyer, elle a été pendant deux années l'une des six bénéficiaires d'une subvention de Prévention du crime Ottawa, grâce à laquelle elle a pu mener des projets de murales avec de jeunes sans-abri.
L'œuvre de Nathalie Grice a été exposée à Ottawa, Montréal, Toronto et San Francisco, en plus d'être diffusée dans la revue Art & Science Journal. Madame Grice est actuellement en recherche de financement afin de retourner en Arctique et y poursuivre ses travaux pour son prochain projet.


Education
BEd, University of Ottawa, Intermediate/Senior Visual Arts and Biology division 2011
BFA, Ontario College of Art and Design, 2007
Select Solo Exhibits
2016 La Forêt des Folies, Loretta Studios and Gallery, Ottawa, ON, CA
2016 La Forêt des Folies, Trinity Gallery, Ottawa, ON, CA
2011 Pretty Things, La Petite Mort, Ottawa, ON, CA
2002 Solo Exhibition, The Manx, Ottawa, ON, CA
2001 My Funny Valentine, Pylon Productions, Ottawa, ON, CA
Select Group Exhibits
2016 Instructor Show, Ottawa School of Art, Ottawa, CA
2016 Retrograff, Loretta Gallery and Studios, Ottawa, CA
2015 Instructor Show, Ottawa School of Art, Ottawa, CA
2015 Her Stories, Fritzi Gallery, Ottawa, ON, CA
2014 3Grices, Saint Brigid's Centre for the Arts, Ottawa, ON, CA
2014 Aberrations, Z Art Space, Montreal, QC, CA
2014 Instructor Show, Ottawa School of Art, Ottawa, ON, CA
2013 Instructor Show, Ottawa School of Art, Ottawa, ON, CA
2012 Edwardian Ball, San Francisco's Regency Ballroom, San Francisco, CA, US
2012 Instructor Show, Ottawa School of Art, Ottawa, ON, US
2011 Nights of Darkness/Petnation, Roll Up Gallery, San Francisco, CA, US
2011 Small Medium Large, Ottawa School of Art, Ottawa, ON, CA
2011 Instructor Show, Ottawa School of Art, Ottawa, ON, CA
2010 Fresh Meat, La Petite Mort, Ottawa, ON, CA
2010 Roadkill Art, Patrick Mills Gallery, Ottawa, ON, CA
2010 Christmas Show, Ottawa School of Art, Ottawa, ON, CA
2010 Instructor Show, Shenkman Arts Center, Ottawa, ON, CA
2010 Opening, Shenkman Arts Center, Ottawa, ON, CA
2007 Pop Goes Parkdale, Parkdale Gallery, Ottawa, ON, CA
2007 Art Bus Tour, Visual Art Centre of Orleans, Ottawa, ON, CA
2007 Group Exhibition, The Gladstone Hotel, Toronto, ON, CA
2007 Group Exhibition, Xpace Cultural Center, Toronto, ON, CA
2006 Group Exhibition, The Crooked Star, Toronto, ON, CA
2001 Rock and Roll Art, Casa Del Popolo, Montreal, QC, CA
2000 Toush, Gamma-Ray Productions, Ottawa, ON, CA
Select Articles and Reviews
Scholey, Lucy. "Ottawa graffiti exhibit shows its roots". Metro News. Jul 11, 2016
Simpson, Peter. "Animals rise up in two art shows worth seeing". The Ottawa Citizen. Jan 15, 2016
Nolte, Victoria. Science and Art Journal. 2013
Regional Contact: Review of Parkdale Gallery 2007
Breakfast Television, Global News: Review for butter sculpture at CNE 2005
Armstrong, Denis. "Artsy Undies". The Ottawa Sun. 2000
Shinhat, Molly Amoli K.. "Gamma Ray Steps Up to the Underworld". The Express. 2000
The New RO: TV review by Monica 2000
Haider, Saba. "Female Graffiti Artist". The Ontarian. 1998
Teaching
2016-present Visual Art Secondary School Teacher, Ashbury College
2016 Screenprinting workshop: Ashbury College
2009-present Art Instructor, Ottawa School of Art
2011-present Art Instructor, Outreach Program for homeless youth, Operation Come Home
2012-present Occasional Teacher, Ottawa Carleton District School Board
2014 Teacher, Visual Art course for grade 11 and 12, Blyth Academy
2012 Mouldmaking workshop: Ashbury College
2011 Ceramics workshop: Norman Johnston Secondary Alternate Program
2007-2009 Art Instructor: Visual Art Centre of Orleans / Richelieu-Vanier Community Centre
2004-2006 Arts and Craft Instructor: Covenant House
Independent Study
Fungi workshop with Richard Aaron, Queen's University 2015
Screen printing, Spins and Needles workshop, 2014
Screen printing, Spins and Needles workshop, 2013
Ceramics with Jim Thomson, 2011
Natural History, Genetics, and Biotechnology, Carleton University 2010
Air Brushing, Centennial College, 2006
Mould Making and Sculpture with Dave Clendining, 2001-2003
Fine Art and Art History, Concordia University, 2001
Graphic Design Diploma Program, Algonquin College, 1998
Grants and Awards
City of Ottawa/Crime Prevention Grant recipient for Paint it Up! Program 2015
City of Ottawa/Crime Prevention Grant recipient for Paint it Up! Program 2013
Achievement Award, 2007
Royal Winter Fair, 2nd place award for Butter Sculpture competition 2004 and 2005
George A. Reid Award, for proficiency in Drawing and Painting 2005